Transcend your limits. In the Karwendel Nature Park.
Climbing and high alpine hiking tours
Climactic. Breathtaking. Unbridled. Just a few words that give you an idea of what expects you if you sign up for a climbing adventure with our alpine guides. Climbing in the Karwendel Nature Park takes alpine fascination to a different level. Together with our guides, you will explore the different via ferratas around Lake Achensee, deep in the Rofan mountain range and high up in the Karwendel Nature Park. Expect to enter a new athletic dimension. To open new horizons. To reach new milestones.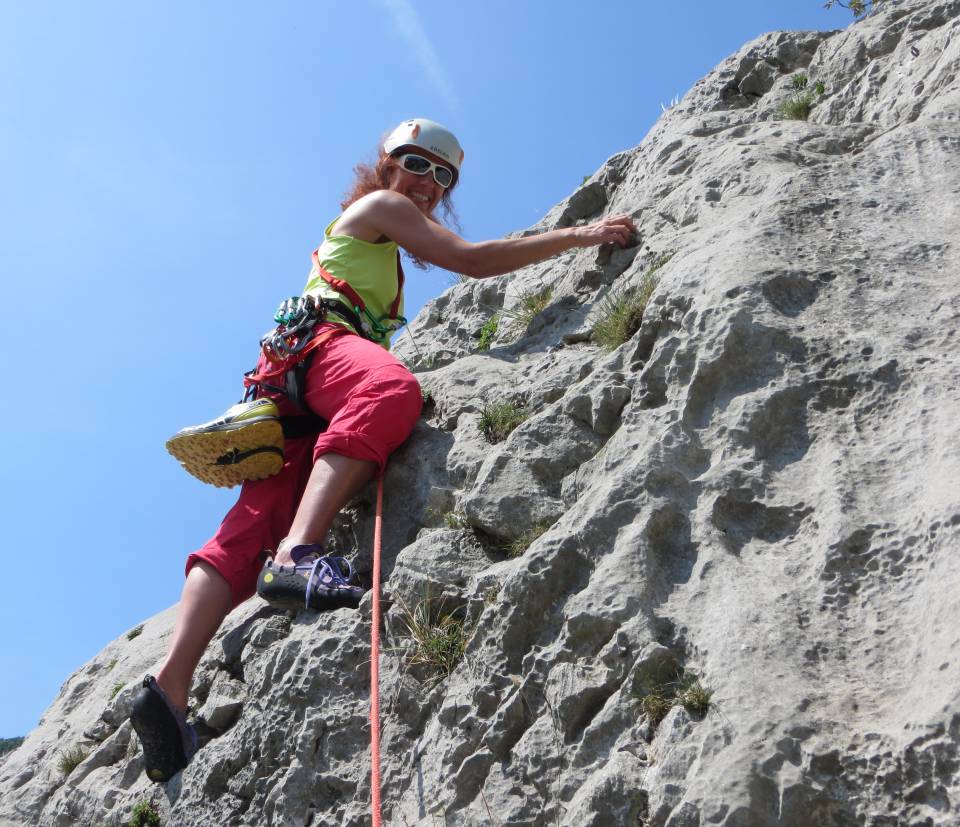 Expert instructions. Fascinating moments.
The most important element of your climbing holiday on the shores of Lake Achensee in Tyrol? The support of our alpine guides. They provide safety. Guidance based on experience and expert knowledge. Leading you through the via ferratas with specialised instructions. From professional advice on how to put on the harness to your sure-footed descent, making this somewhat daunting sport an unmitigated pleasure. Feel the magnificent scenery become your personal power bank from which you draw unforgettable moments of complete presence, at one with nature.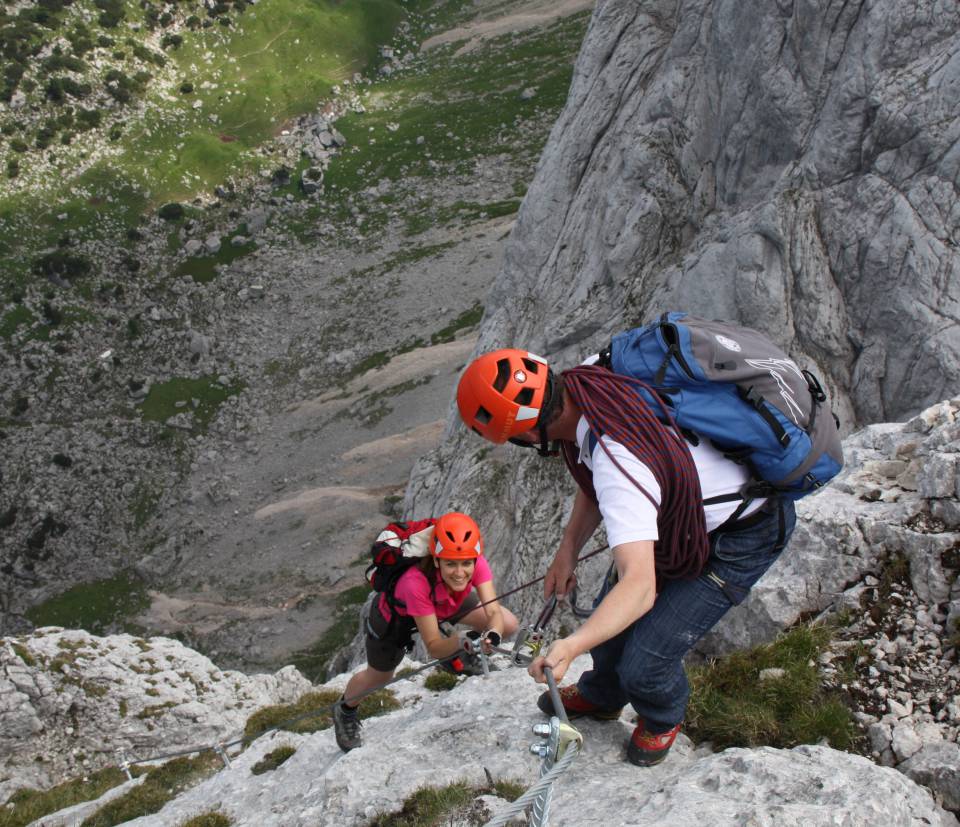 Discover. Confidence and safety.
Complicated knots and hair-rising abseiling manoeuvres are not required in the via ferratas around the DAS KRONTHALER. As a warm-up, pay the practice via ferratas in Rofan, Buchau or Brudertunnel a visit. Once you have become sure-footed, you are ready for the Haidachsteilwand with a height of 2,192 metres, the Rosskopf with 2,246 metres, the Seekarlspitze with 2,261 metres and the Jochiss with 2,299 metres.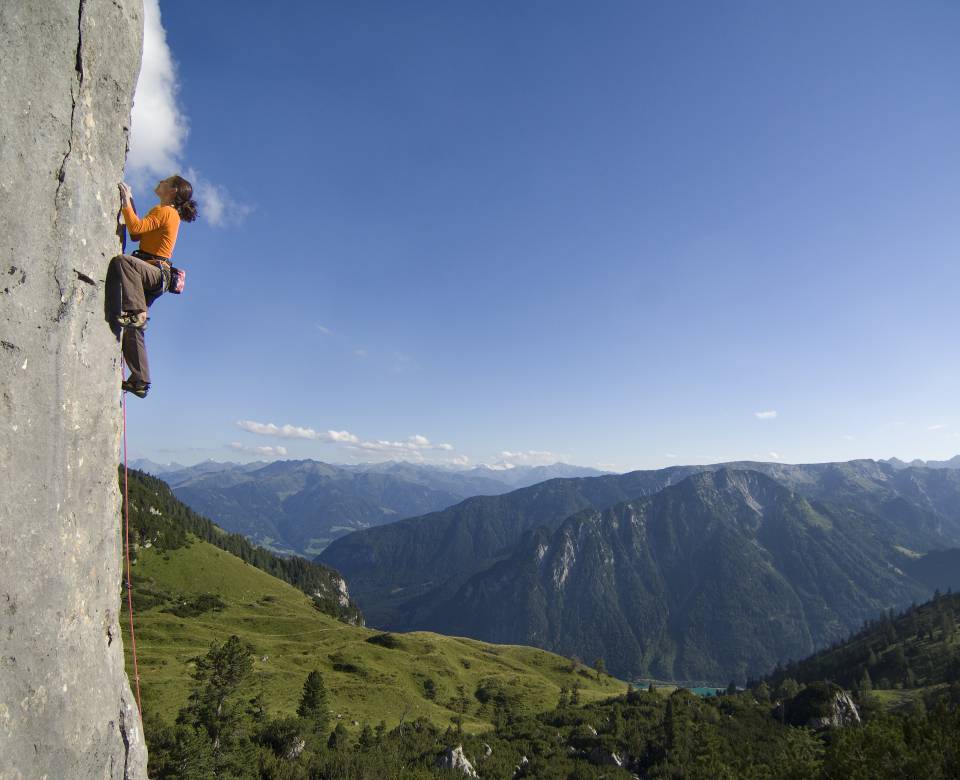 Attentively pampered.
Inviting indulgence.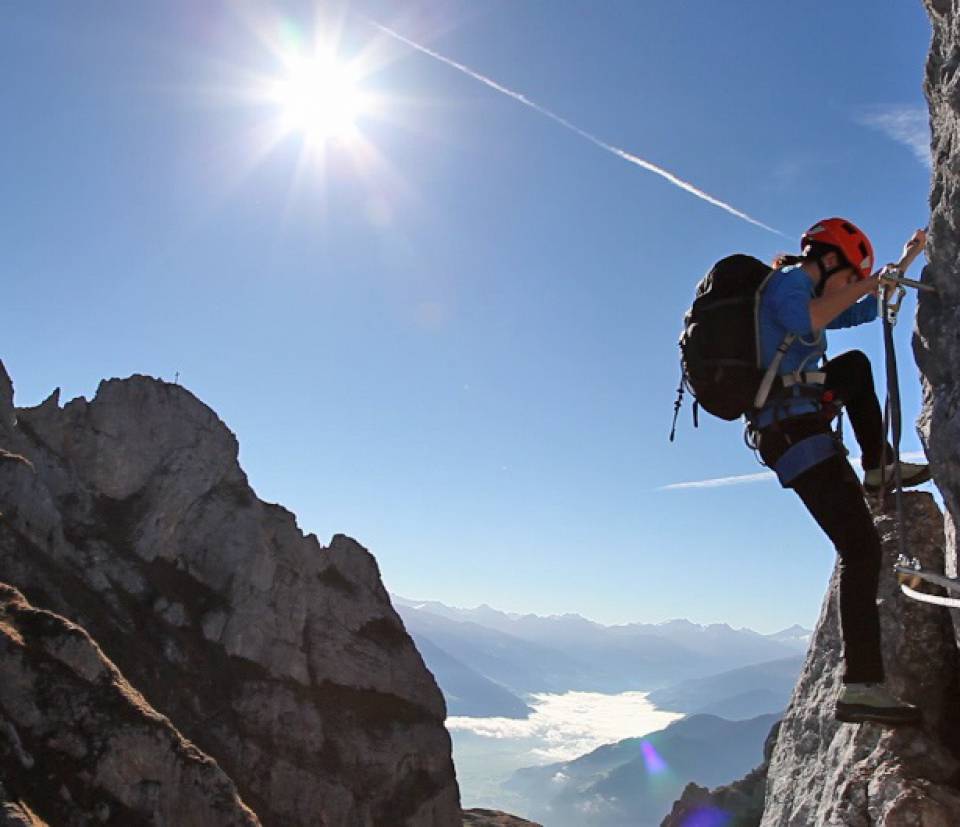 Climbing for all levels: beginners, intermediate or advanced
For all levels of skill! Our alpine guides will find the tour that hits the spot exactly, providing you with the tips and techniques you need in order to reach your next level, or to break your personal record. Where only chamois and bearded vultures live during the winter months, where ice climbers dig their crampons into the ice-covered rockfaces, is where you really feel the awe-inspiring power of the mountains. Where you get closer to the natural elements with every step and every grip.
Your safety in the mountains
A portrait of our mountain guides

Florian Wechselberger
State-certified mountain and ski guide, IVBV, Guida Alpina, mountain guide, degree in sports and English, active member of the Tyrolean mountain rescue service, member of the Austrian Society for Mountain and High Altitude Medicine, ÖAMTC air ambulance service, founder of the mountaineering and alpine school www.alpine-guiding.at.

Bert Weinhart
State-certified mountain & ski guide, IVBV, numerous mountain tours in Nepal, Peru, Greece, the USA, climbing tours in Norway, instructor with the Bavarian mountain rescue service, trained as a paramedic and emergency assistant, member of the Tyrolean mountain rescue service, has been living in working in Tyrol for several years.

Alfred Landl
State-certified mountain and ski guide, degree in mechanical engineering and business, holds a leading position in industrial company Tyrolit, training courses in mountaineering schools, ski tours in the Pyrenees, Norway and Georgia, air rescuer with the ÖAMTC air ambulance service point in St. Johann in Kitzbühel.