Inspired by the origin. Guided by the future. Enriched by the moment.
Hosts & phylosophy
A vision to feed the spirit. A heart that beats for nature. Both feet firmly on the ground: Günther Hlebaina loves what he does and does what he loves. A hotelier by vocation, born to think sideways and with an unbridled passion for the exclusive, with a distinctive and authentic note. This is what Günther Hlebaina wanted the DAS KRONTHALER to be: an adults-only retreat for couples, individualists and families with children from the age of 14.A design hotel with charisma. A hotspot of strength with authentic powers. A panoramic hideaway where nature is close enough to touch. A haven of tranquillity that goes beyond the surface. Cosmopolitan. Athletic. Dynamic. The DAS KRONTHALER is all that and more, combined with state-of-the-art, alpine lifestyle and irresistible joie de vivre.
A strong country. A strong mindset.
Where nature leaves its mark on the people. Where the rhythm of the seasons is perfectly in sync. Where culture is rich and heritage precious. Where handshakes are firm, and smiles come from the heart. Where every chat is an invitation to friendship. A place that prides itself on its unique tradition of hospitality. Where the extraordinary is truly valued and where the personal is the professional.  A place that has made its own brand of luxury.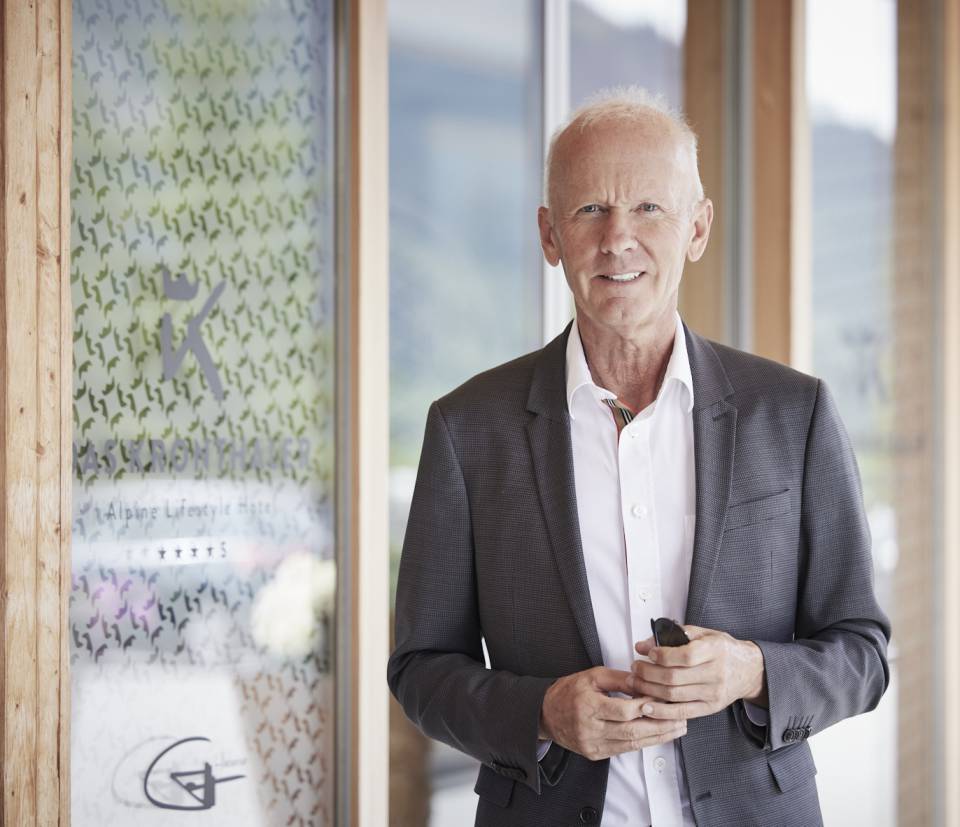 Where characterful design meets superior service
The DAS KRONTHALER is a hotel that is unique in every way. A resort that derives its impact from simple elegance and sophisticated design.  In individual rooms. In beautiful suites. In generous chalets. For a generation that demands modern-day comforts, without compromising on traditional style.

Be there and ...
want to stay.
Das Kronthaler
3000 days
Inspired by the origin
A quick line in appreciation of all those who came before us. The visionary pioneers who gave our hotel its name. The forces of the Ice Age that shaped our unique natural backdrop. A foundation that has weathered millions of years and is still rock-solid, carrying us safely through our lives.  We want to provide tangible answers to the question as to what is truly important - in every room, every experience and every encounter. To find our way back to one another, and to ourselves. To dig deeper. To see true values, and to pass them on. The DAS KRONTHALER is a source of tranquillity that is steeped in history. A place with a soul and an unmistakeable character. A living expression of our roots.
Guided by the future
Because every vision holds the seed for a new reality. Because we always strive for more. To live with greater intensity. To follow our energies - play with them, interpret them, control them. Curiosity is what guides us. Because we burn for the unconventional. Thinking ahead and intuiting the future. Growing into who we are and letting ourselves be surprised. By what we can do. By life itself. By the ages - and all the wonderful, wondrous, well-meaning and wild possibilities they present us with. We claim the right to make mistakes. To walk narrow paths. To change direction as we go. And to constantly redefine ourselves as creative spirits, as philosophers and bon vivants, as movers and shakers, as dreamers and visionaries.
Enriched by the moment
We sallied forth and realised that home was our destination all along. We surpassed ourselves and discovered our innermost core during the process. We philosophised while jumping in with both feet. We took a chance and left all preconceptions behind. We showed courage and found humility. We dreamt up the new and gave a new lease of life to the old. We dared to make our visions reality, drawing inspiration from the past. We touched others and conquered hearts. We gave a voice to our soul and a home to our dreams. Where we can breathe freely. Pause between thoughts. Listen to the message of silence. Taste the sweetness of being. Letting it happen. Enjoying every bit of it. Seeing it as what it is: Inspired by the origin. Guided by the future. Enriched by the moment.