Trend. Challenge. Passion
Mountain biking on the shores of Lake Achensee in Tyrol
Two bikes. One craving. Many destinations: the mountain peaks. Picturesque dairy pastures. Legendary heights with panoramic views.  Around the DAS KRONTHALER on the shores of Lake Achensee in Tyrol, 250 km-long routes tempt you to get in the saddle, either with a personal bike guide or on your own, following the excellently signposted routes. Where to start? Right at your alpine pole position of the DAS KRONTHALER, complete with in-house mountain bike rental.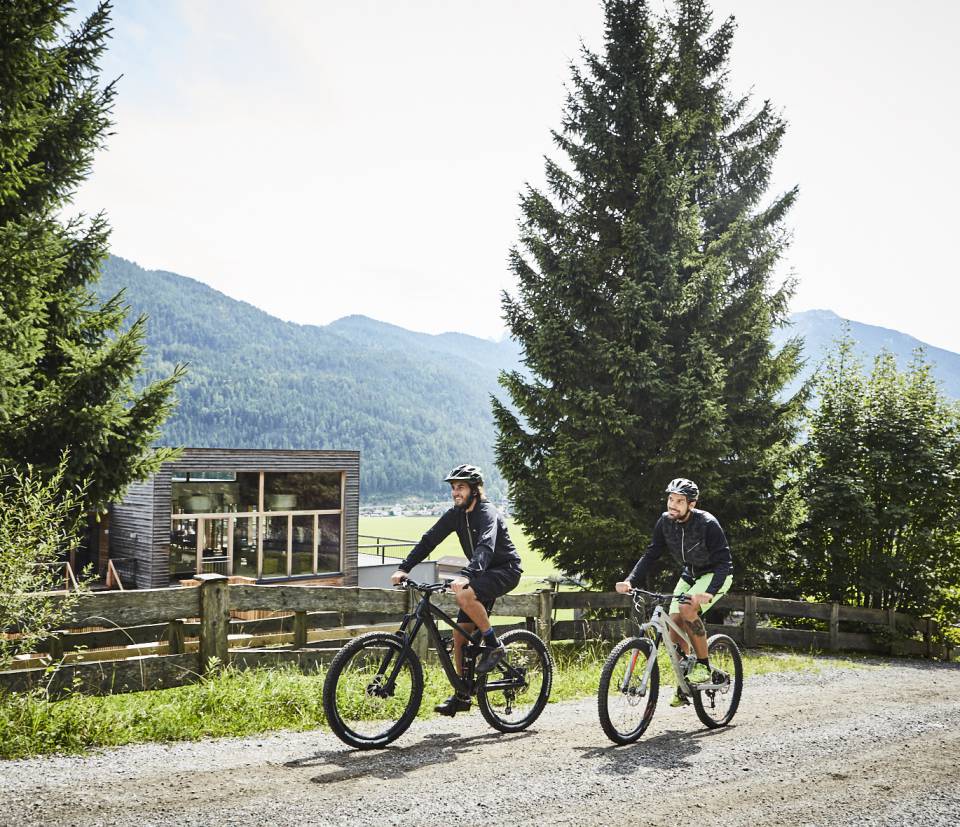 Fancy a bike challenge? The Karwendel round tour
At the DAS KRONTHALER alpine lifestyle hotel, athletes and passionate bikers come together to take part in a one-of-a-kind challenge: the Karwendel round tour, 305.5 km in length, 6,869 m going up, 6,766 m going down. Renowned as the absolute king of MTB routes, not just in Tyrol, but far beyond.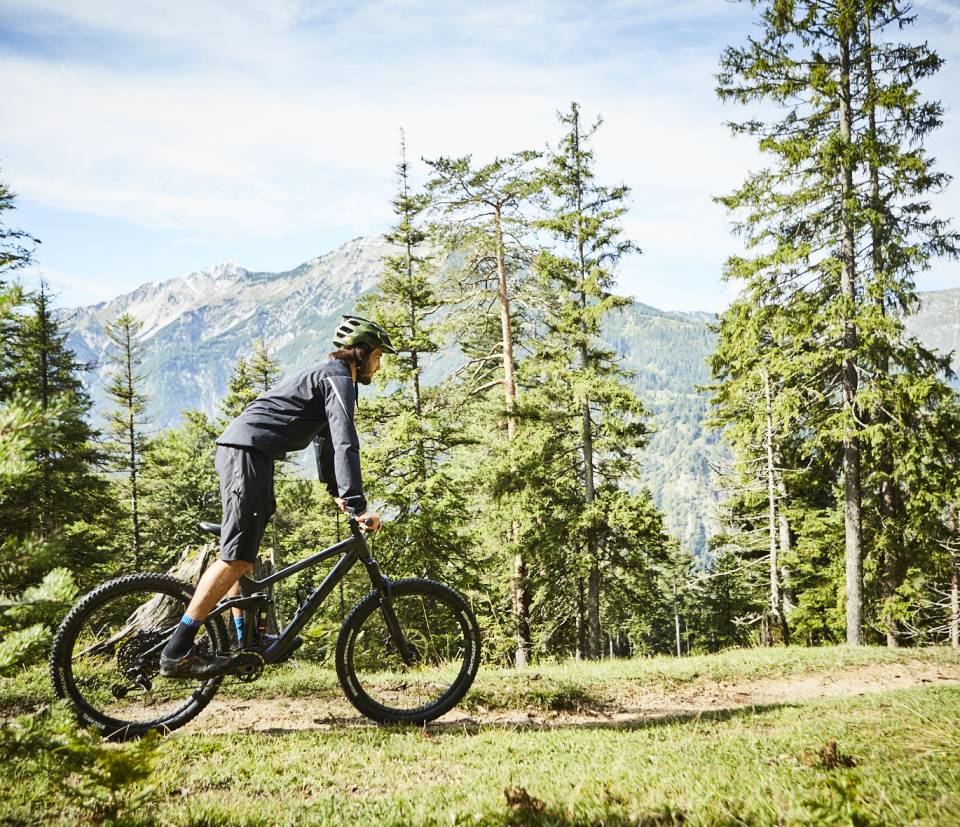 Tempting: the Via Bavarica Tyrolensis cycling route
Passionate cyclists will find it hard to resist the call of the legendary Via Bavarica Tyrolensis cycling route, also within easy reach of the DAS KRONTHALER.  The Bike Trail Tirol also has several stops in the region. In short, wherever you look in the region surrounding our hotel, in its enviable stand-alone location high above Achenkirch am Achensee, exciting MTB tours are just waiting to be discovered!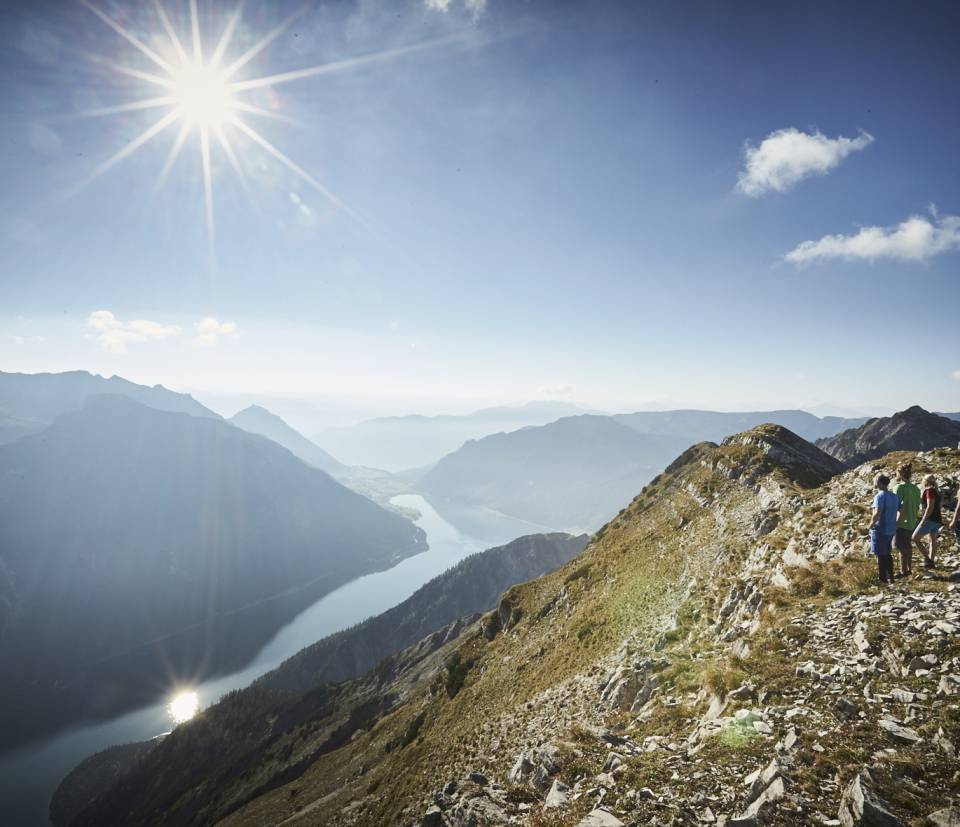 Mountain bike and e-bike tips
The DAS KRONTHALER bike guides offer useful tips on your choice of rental bike in the LustBOXX and will also accompany you on the region's most stunning trails several times a week: The Riederbergweg trail is 4.5 km long, with an altitude of 446 metres, and can be completed in just an hour.  The MTB tour up Gufferthütte hut takes about 2.5 hours and is 27.3 km long, with an altitude difference of 680 metres. Perfect for those looking for a first challenge! The Rotwand-Bächental tour measures 36.3 km and has an altitude difference of 775 metres, making it the most challenging tour out of the DAS KRONTHALER top 3 suggestions.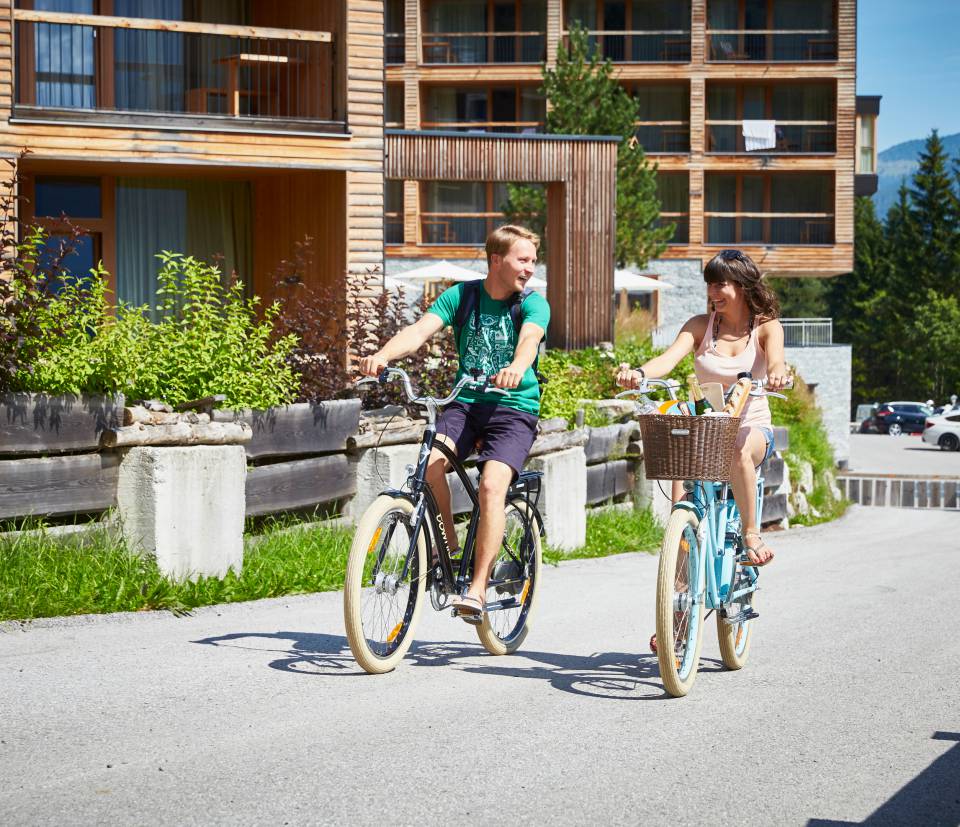 Karwendel and Rofan ranges. Easy to conquer by e-bike.
Every path makes you a high flyer. Every view touches your heart. The Karwendel Nature Park and the Rofan mountain ranges have been attracting hikers and mountain bikers for generations. Now, the region also abounds with e-bike tours, taking you up to picturesque dairy pastures and mountain peaks. Pedalling leisurely along the lakeshore, or through the side valleys of Lake Achensee. The e-bike is a perfect addition to your active holiday at the DAS KRONTHALER in Achenkirch. Every tour is unique. Discover babbling brooks. Mystical, shady forests. The area around Lake Achensee with its many sports opportunities - and your personal dream tour through the Rofan and Karwendel ranges.
For lovers of the extraordinary
Packages & Offers