Stand-up-paddling on the shores of Lake Achensee in Tyrol
Stand-up-paddling on the shores of Lake Achensee in Tyrol
Use your body to balance out the waves of the lake. Glide across the waters while standing upright. Feel the freedom. Feel the breathtaking panorama of Lake Achensee infuse your soul.  Feel your body become one with the waters, through movements that are almost meditative. Stand-up paddling really is something else - just like Lake Achensee itself. The origins of stand-up paddling can be found in Polynesia: Tahitian fishermen have always used long boats that are similar to surfboards in order to make their way through the water. Later, surf instructors in Hawaii took up this form of surfing to make keeping track of their students easier. It didn't take long for stand-up paddling to become a popular sport in its own right, and the number of devotees is growing steadily.
How does stand-up paddling work?
Stand-up paddling, also referred to as SUP, has taken Lake Achensee by storm and is fairly easy to learn: Stand-up paddlers position themselves at the centre of a 3-5-m long board, similar to a surf board. They then use a light paddle made from carbon to propel themselves through the water by inserting the paddle into the water right next to the tip of the board, thereby pulling it backwards. This results in a smooth, gliding movement. Stand-up paddling is a form of surfing, where the speed is not determined by the wind or the waves. Movement results solely from your body's strength and the right balance.
Who can learn stand-up paddling?
That's easy: anyone, including you. SUP is becoming increasingly trendy all over the world, as a sport that requires stamina and dexterity, but is accessible to anyone. Stand-up paddling rings in a new era for alpine lifestyle sports - a feeling that is simply indescribable.  This is your chance to give it a go!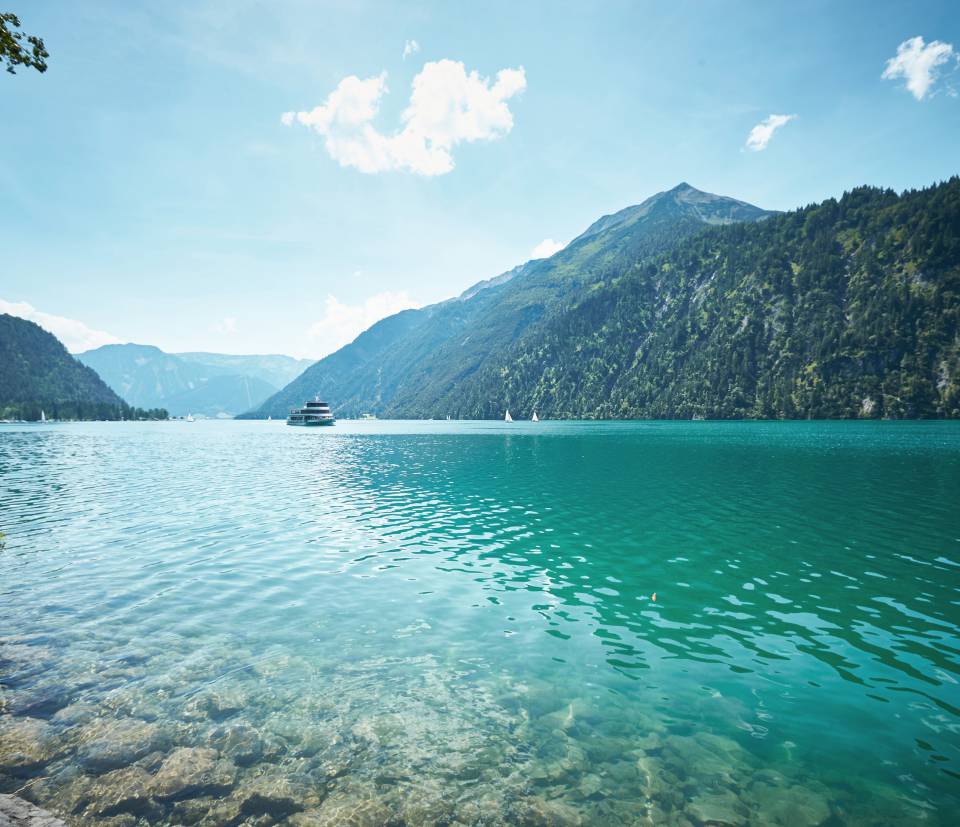 Try stand-up paddling during your holiday at the DAS KRONTHALER
Lake Achensee in Tyrol, home of the DAS KRONTHALER alpine lifestyle hotel, is the new insider's tip for all existing and aspiring SUP enthusiasts. The panorama of the Achental valley and the Karwendel Nature Park appear particularly impressive from the stand-up paddler's perspective. Try the DAS KRONTHALER early-morning and sunset session for a truly magical experience. For additional information and to register, ask directly at reception or contact us by telephone or e-mail.