Let the space do the talking. Nature will do the rest.
Architecture and living
What is this space trying to tell us? How far back does tradition go? What shape does modern design come in? The team of architects around Manfred Jäger have traced the answers to all these questions back to a single point: to the origin. The core of well-being lies in the fundamental elements of life. The DAS KRONTHALER, alpine lifestyle hotel on the shores of Lake Achensee, lives and breathes nature. Let yourself be inspired by this new interpretation of space and scenery. Open yourself up to this unique source of strength.
A focus on what is essential
No distractions. The eye is guided by clear lines. The colour scheme is earthy and warm. The patterns inspire and make you feel special. The materials are right at home: Wood. Stone. Felt. Loden. Fine, alpine twine. Presented in a stylish setting, they are the protagonists of this atmospheric design. They touch the senses. Awaken your inner artist. Your inner aesthete. Inviting all those searching for more to come and stay.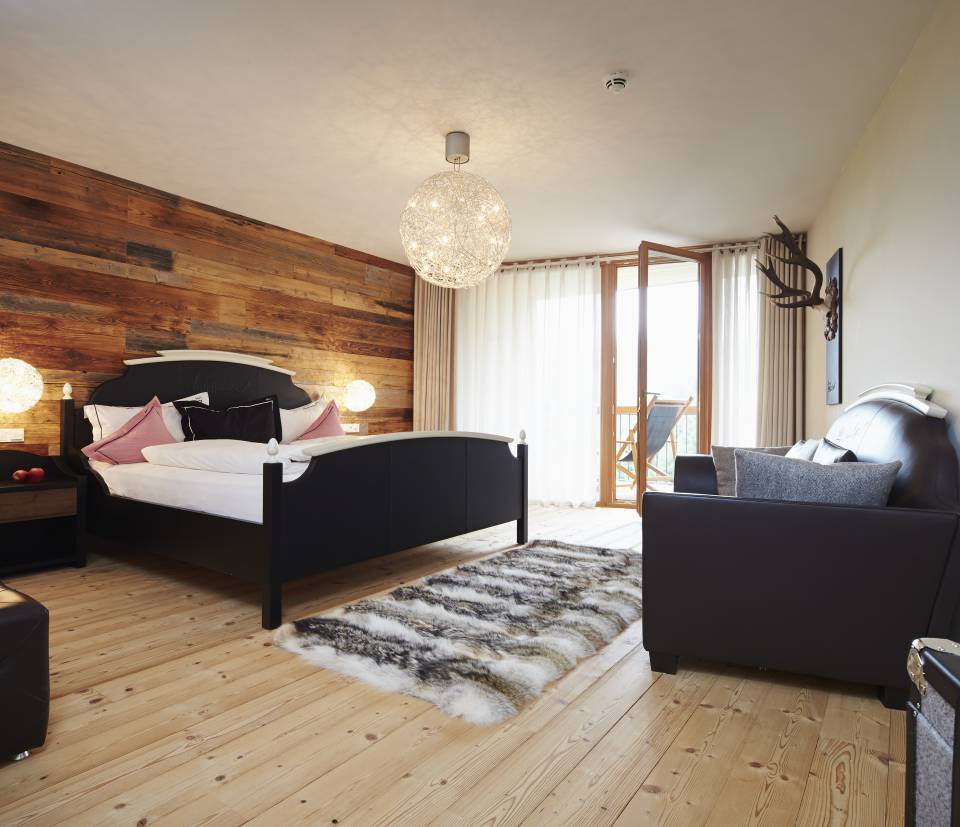 So natural. So powerful. So precious.
No two spaces are alike. They all come with their own aura. Their own signature. Their own personality. Created from the knowledge that precious experiences need precious spaces, with room to breathe and to grow wings. What's needed is a feel for design and for all the factors at play between these four walls: Clarity. Harmony. Atmosphere. True to this motto, the furnishings of the DAS KRONTHALER are not just distinct, but custom-made. We brought nature into our hotel, with products that were selected for their ecological compatibility, down to the very sewing thread used.
zur Zimmer & Preisübersicht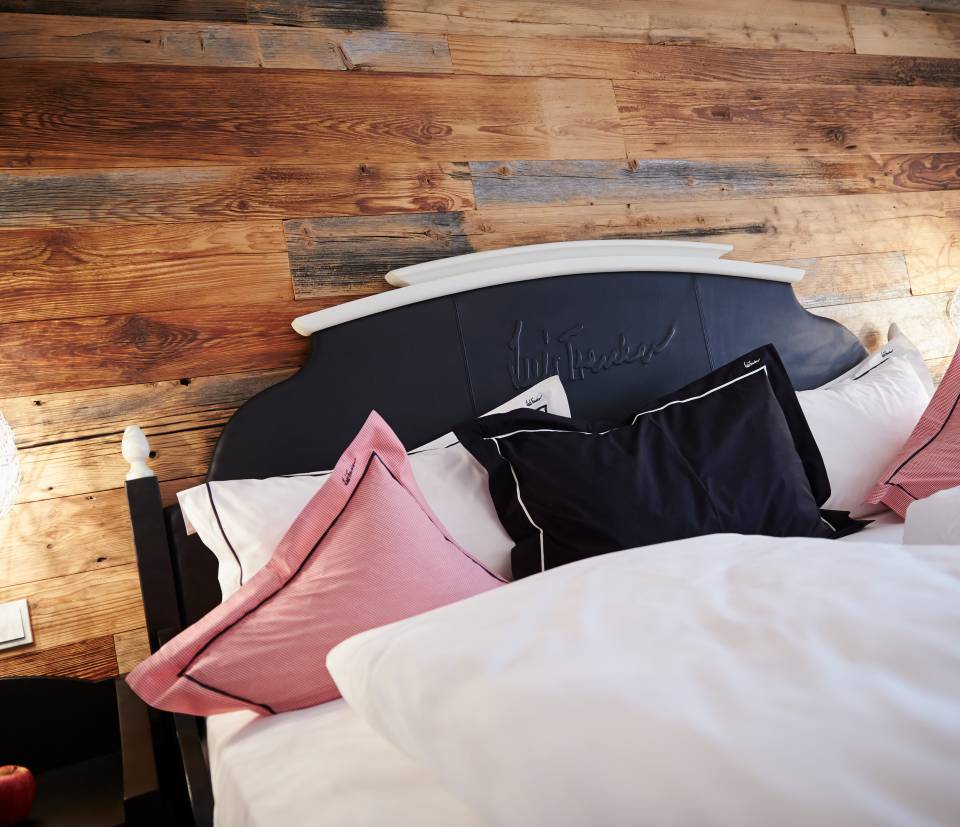 Unique, ecological pieces
Many of our furnishings were designed and developed especially for the DAS KRONTHALER: The rug in the hallway that implements the theory of the 4 elements and of colour psychology. The oak parquet flooring, designed in such a way as to offer outstanding footfall insulation. The mattress covers, toppers, pillows, duvets and bed covers all comply with the ÖKO-TEXT® Standard 100. Mattresses, textiles and curtains were all chosen without metallic coatings and for their sleep-promoting properties.
The DAS KRONTHALER implements exceptionally high standards for quality, ecology and design that raise the bar for the entire hotel industry:
Generous dimensions and state-of-the-art Alpine Lifestyle architecture
Unique, stand-alone location for your much longed-for break
99 ecologically certified rooms, suites, and chalets
Individual accommodation options ranging from 24 m2 to 130 m2
Private spa flair in the chalets
Unsurpassed air quality at the edge of a forest
First class water quality in the tyrolean mountains
"Nature Living" terrace
Barefooted feelgood atmosphere with a tangible connection to nature
Wide, brushed and oiled floorboards made of oak
First-class ceramics and fixtures in the bathrooms
Ceiling-height windows that allow you to get even closer to nature
Lights and colour schemes that help you relax and lift the spirits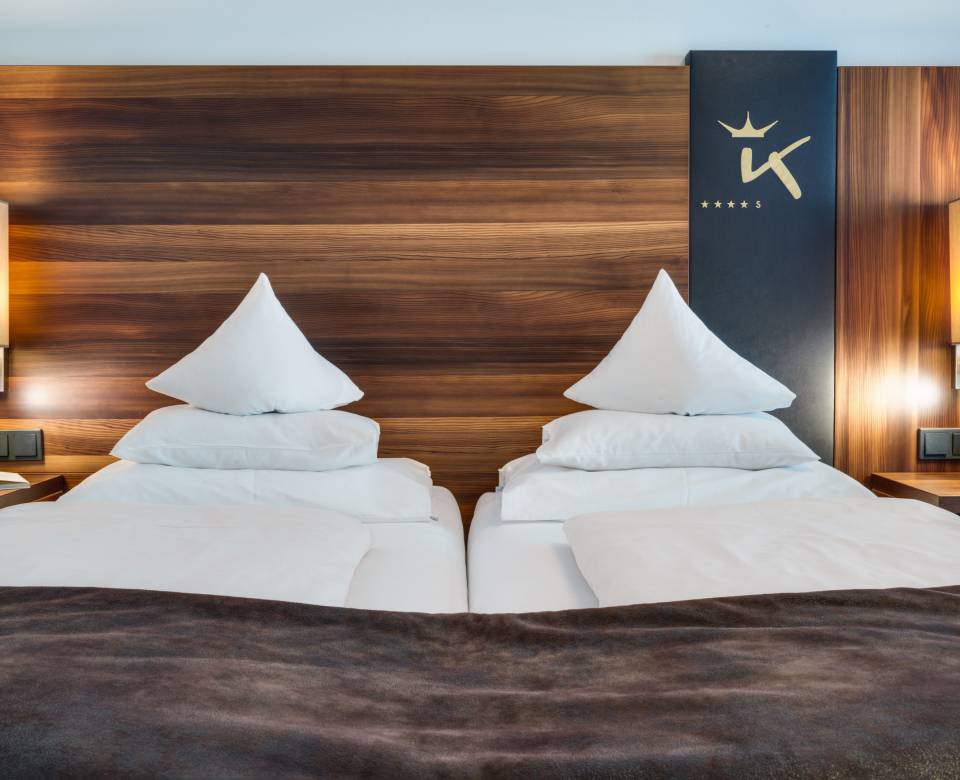 Lifestyle Philosophie.
Rooms with Personality.
Benefits for allergy sufferers at the DAS KRONTHALER
Pet-free hotel
Dust-protective carpet in the hallways
Wide, brushed and oiled oak floorboards in the rooms and common areas
Solid, carpenter-built eco-beds
High-quality mattresses without silver coating
All sheets, toppers, pillows, covers and blankets comply with the ÖKO-TEX® Standard 100, the highest standard available
Careful, thorough cleaning - from the washable mattress cover to the detergents used, we set great store by gentle and sustainable methods
No chlorine-bleached materials are used in any part of the hotel
Blackout curtains free from metallic substances
Allergy-friendly cuisine: We are happy to fulfil your individual requests!