200 km of athletic feats. 200 km of cross-country adventures.
Cross-country skiing on the shores of Lake Achensee in Austria
Classic. Skating. Leisurely tours. This holistic endurance discipline is currently experiencing a comeback. Dynamic. Vigorous. Close to nature. All that and much more describes cross-country skiing on the shores of Lake Achensee, in the vicinity of your designer hotel DAS KRONTHALER. Learn how to change tracks safely, how to brake and other basics with the professionals from the hotel-owned Achensee ski school, and experience winter in Tyrol on 200 km of excellently groomed tracks.
Cross-country skiing at
DAS KRONTHALER
To make your stay as pleasant as possible, enjoy the benefits of a qualified cross-country accommodation provider at the DAS KRONTHALER. Including Ski.In-Ski.Out 2.0: your very own access to the cross-country trails directly next to the hotel.
For your cross-country holiday in Tyrol
Ski.In-Ski.Out 2.0 to the cross-country trail: You can access the cross-country trail right next to the hotel entrance
Healthy breakfast (fruit, muesli and much more)
Ski and cross-country equipment storage area (lockable and fully insured against theft)
Ski storage area with waxing facility for your cross-country equipment: waxing table, iron, power connection, repair pen, blade, brush, screwdriver
Washing and drying service
Hotel-owned Achensee ski school with professionally trained and certified cross-country skiing instructors
Cross-country information corner
Map of the region
Route suggestions for all levels of skill, incl. list of access points
Timetable/opening hours for public transport facilities/cable cars with high-altitude trails
Specialist journals (e.g. nordic sports, active life...)
Weather information: Latest weather conditions with 3- or 5-day forecast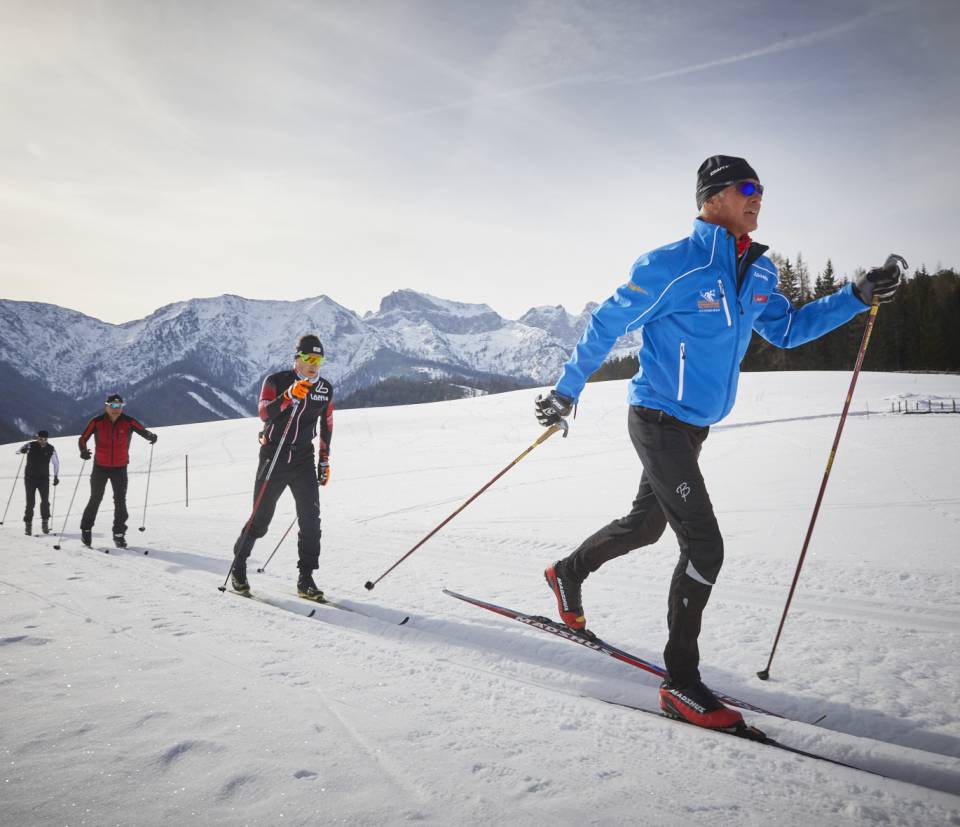 Cross-country skiing lessons: personal and professional
For cross-country skiing, it is also recommended to have a few days' instruction to get the most out of classic cross-country skiing or skating.  For your safety, braking or changing tracks correctly is essential. Cross-country trails longer than 120 km and with a dedicated skating trail provide almost limitless skiing fun. Under the supervision of our professional ski school team, gliding through this fairy-tale winter landscape becomes an unforgettable experience.