Passion between mountain and lake
Achensee and Karwendel
Lake Achensee is the largest lake in Tyrol and also referred to as the "Tyrolean sea". The lake is both a haven of peace and a perfect location for sports enthusiasts.  Its 21.4 km-long shore offers numerous opportunities or one-of-a-kind encounters. Embedded in a mountain setting, surrounded by the Rofan range, the Karwendel Nature Park, forests and meadows, it opens up vistas that are as powerful as they are stunning.  At an altitude of 929 metres, Lake Achensee has it all: culture, sports, water fun, mountain adventures.
Explore Lake Achensee and the Karwendel Nature Park on your holiday at the Alpine Lifestyle Hotel DAS KRONTHALER in Tyrol.
The fascination of the Karwendel Nature Park.
Rugged outcrops. Lush forests. Gentle dairy pastures. The Karwendel Nature Park. With a total area of 727 square metres, it is Austria's largest nature park.  Founded in 1928, it is also one of the oldest conservation areas in Europe. Eleven different nature preserves include high alpine summits and moorland. 340 springs. High plateaus with sycamore trees.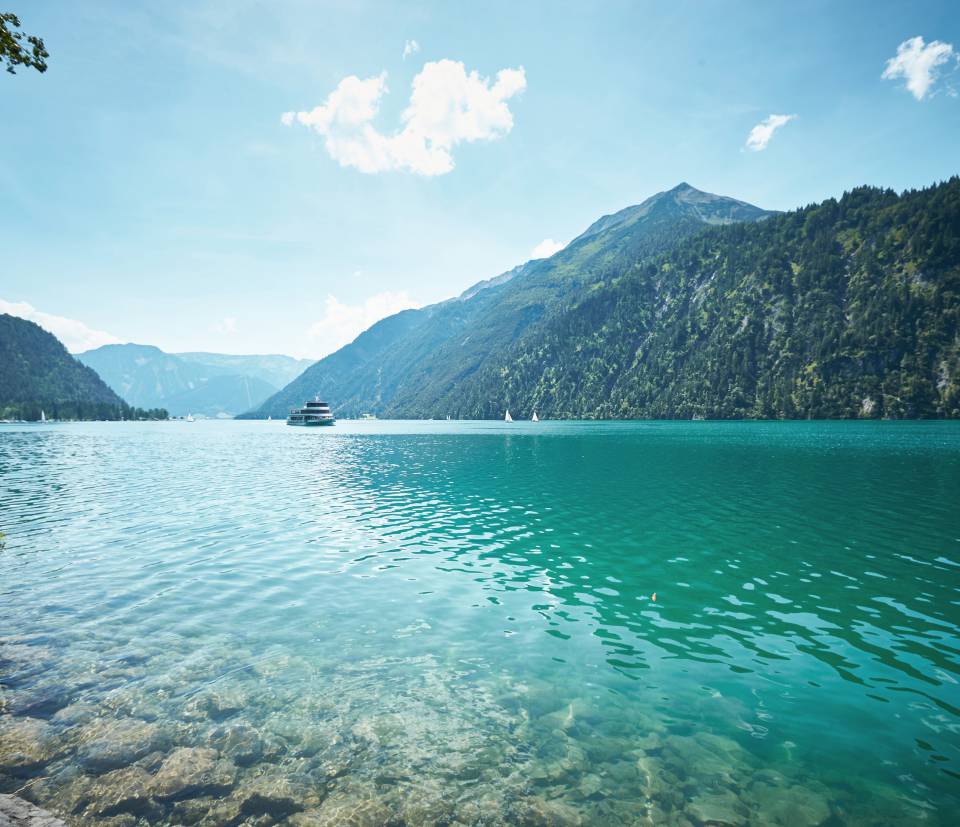 A versatile world of adventures.
Lake Achensee is framed by two mountain ranges: The Karwendel range with its rugged outcrops on one side, the Rofan range with the legendary Hochiss summit and an altitude of 2,299 metres on the other. A unique natural setting that is perfect for hiking, biking and climbing. For sailing, wind surfing and stand-up paddling. For a cruise on one of the boats operated by the Achensee Ferry & Cruise Company. For exploring the "Seeuferweg" trail that runs along the lakeshore by e-bike, bicycle or on foot.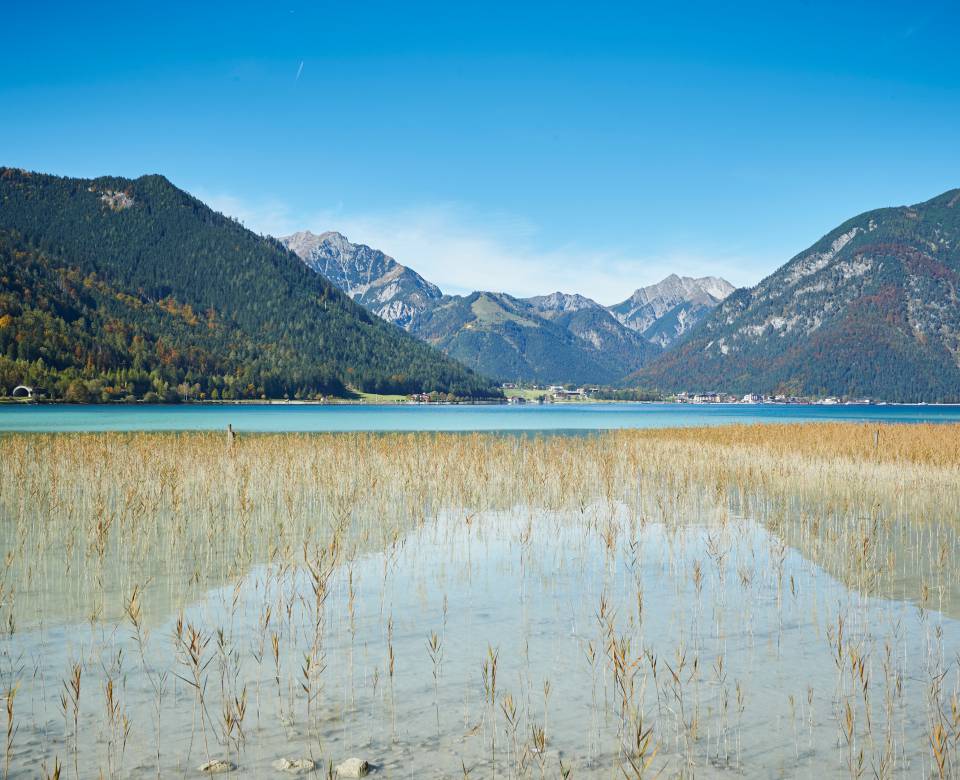 Touch points.
With a special value.
Lake Achensee
Figures, data & facts
Tyrol's largest lake
Natural lake created by glaciers; dates back 20,000 years
481 Mio. m³ water volume
9 km long and 1,3 km wide, 133 m deep
21,4 km shore length
excellent water quality
Surrounded by the Karwendel and Rofan mountain ranges
Achensee Ferry & Cruise Company with six landing stages
Types of fish: Perch, pike, brown trout, minnow, bullhead, rainbow trout, whitefish, roach, tench, lake trout, char, burbot