A place as unique as it is precious
On the edge of the forest
DAS KRONTHALER - a characteristic alpine lifestyle and adults-only hotel in Austria. If you've stayed with us once, you will return again to harness the unique power of a place where the mountains touch the lake. Experience the truly exceptional. The luxury lifestyle of the DAS KRONTHALER.
Your pole position between the mountain and the lake
Superior: Our stand-alone location at the edge of the forest and our in-house ski school.
Stunning: The view across the nature park community of Achenkirch and all the way to Lake Achensee.
Spectacular: The wealth of experiences and adventures that await you here in an adults-only and pet free atmosphere.
From ambitious activity to relaxed enjoyment of nature: the Alpine Lifestyle Hotel DAS KRONTHALER promises not only breathtaking things, but also something extraordinary at any time of year. Discover it!
Hideaway for everybody

DAS KRONTHALER is supposed to be a place of well-being and relaxation. Treat yourself with a relaxing time-out and the DAS KRONTHALER luxury of life: with the human dignity as a premise, lived tolerance to all as well as passionate service.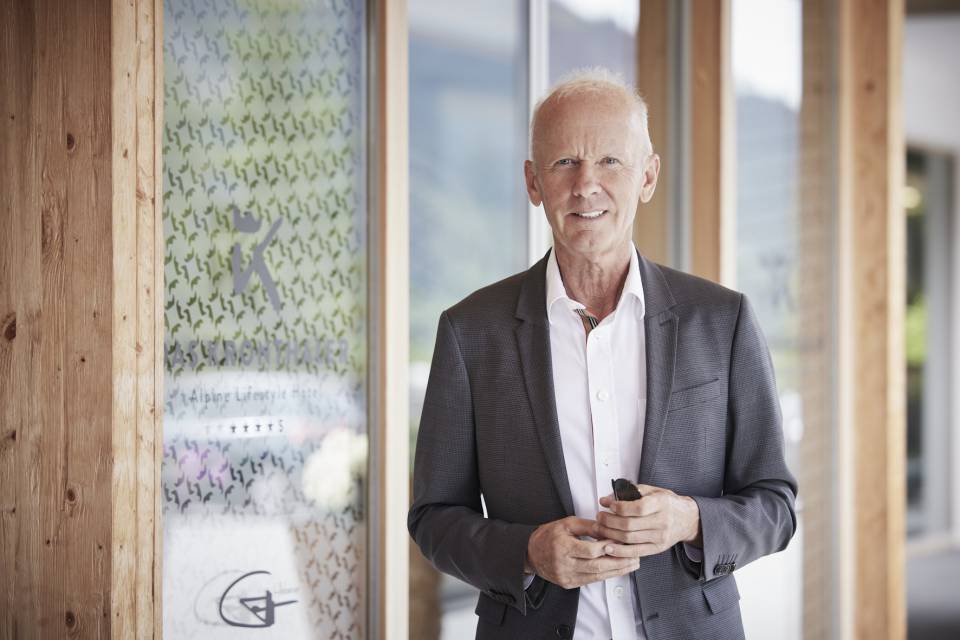 Welcome!
To absorb nature even more unadulterated.
And after all, there is nothing better between the lake and the mountains than shared enjoyment among cosmopolitan, like-minded people who have made our hotel their alpine home. Come and join us and be part of the unique DAS KRONTHALER luxury lifestyle community!
Kind regards,
Günther Hlebaina
and the entire DAS KRONTHALER team
Vacation at lake Achensee
endless possibilities
At the heart of the Karwendel Nature Park, in the immediate vicinity of Lake Achensee, lies the DAS KRONTHALER - made for experiencing the extraordinary. It is an alpine pole position - with ski.in-ski.out and its own cross-country ski trail entrance in winter and countless possibilities from hiking to stand up paddling in summer.

Some come to discover an idyllic place of power with highlights such as forest bathing with Biophilia effect, yoga in harmony with nature and sustainable impulses for a healthy life.
Others come to take the opportunity to try out different activities, ranging from sailing to paragliding, from hiking to biking, from golf to horse-riding, from skiing to snow-shoe hiking.

And to reward themselves for their exertions while relaxing in the sauna, enjoying a massage or a wellness treatment in the natur[e].spa.BOXX.
Discover DAS KRONTHALER as your alpine pole position. As a sanctuary and a power spot. Always accompanied by the unique DAS KRONTHALER luxury lifestyle.

On 365 days a year. In summer. In winter. In Spring and Autumn.
The A & O in the Alpine Lifestyle Hotel
Holidays in harmony
Alpine Lifestyle
We at DAS KRONTHALER are convinced: Lifestyle means quality of life and quality of life means healthiness. So it is not only our philosophy, but our daily joy to live vitality, closeness to nature and harmony. So we invite you as our guests for an acitive relaxation. The power of nature, which surrounds our hotel, can be absorbed with all your senses. And you have the possibility to enjoy a conscious lifestyle without having to do without anything.
Enjoy. Experience. Learn.
A vacation in our Alpine Lifestyle Hotel at the Tyrolean Achensee will be a time in which you will experience a healthy lifestyle on all levels:

The DAS KRONTHALER-Cuisine focuses on regional quality, uncompromising freshness and vital dishes. From breakfast in the morning up to to an enjoyable afternoon and an dinner in the evening. Low carb and vegetarian dishes are our offer for vital gourmets.
Allergy sufferers are provided with specially selected menus. But not only when eating you set also important impulses for a healthy life with our special retreats and workshops.

Pleasure & Culinary
Forest bathing. Yoga. Base fasting.
The possibilities for a conscious time-out are manifold: Our secluded location directly at the edge of the forest between mountain & lake is created for making health an experience - with guided forest bathing with biophilia effect. With various yoga retreats. During the transformative Re.Connect Retreat. With Digital.Detox. With basefasting oder different food retreats.
Activate your self-healing powers. Learn new methods for relaxation and regeneration. Get a new input for a conscious lifestyle in the modern world. And benefit from our sustainable retreats and inspirational lectures.

Health & Retreats
Relax. Letting go. Being me.
Here at DAS KRONTHALER, embedded in the beautiful scenery between the Karwendel and Rofan, nature is our cherished neighbor as well as the center of all our values.
So our 2,500 m² Wellness & SPA is a place where you can relax and unwind actively. Where you can experience the energy of the elements, the strength of the mountains and the power of nature. When diving into the indoor and outdoor pool. During a guided infusion in the various saunas. During treatments in our natur[e].spa.BOXX. With the products and treatments by Susanne Kaufmann.